Unveiling my Portuguese Studio in Setúbal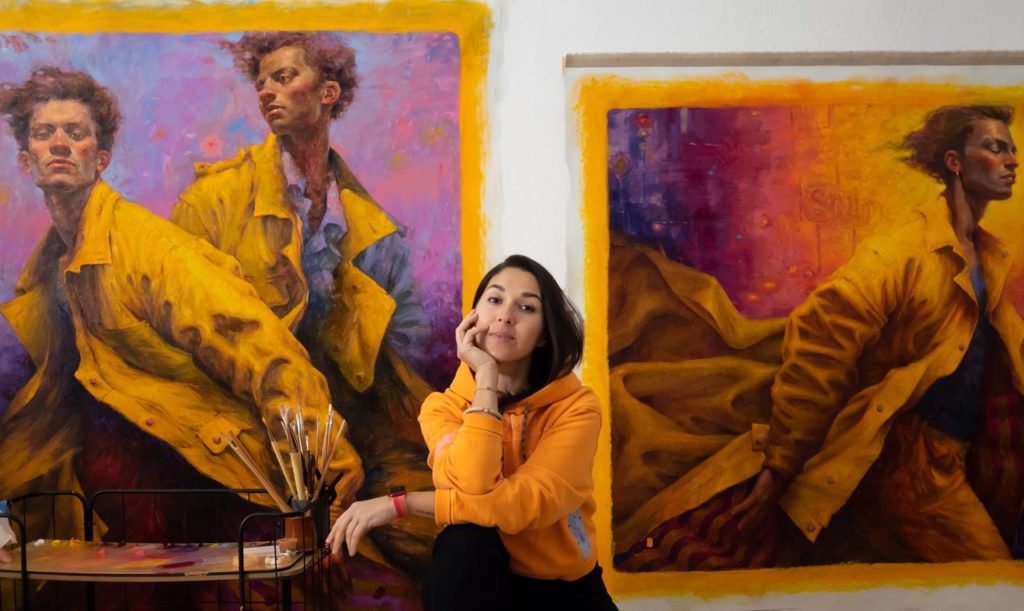 The world of my studio in Setubal, where creativity blossoms and art comes to life.
In the realm of art, a studio holds immeasurable significance – it is the place where the artist's spirit roams free, where dreams intertwine with reality. My Portuguese studio, nestled in cozy and quiet Setúbal, has become a special area that gives life to my artistic expression. This is where such works as 'Apricity in New York' and 'Kyoto Twiglight' were created, this is where my method took its most recent step.
Since coming to Portugal, the embrace of the art community has been both humbling and exhilarating. Collectors, seeking a personal connection with my work, came to my studio, friends passing by during the lazy days, art fellows sharing their creative spirits. It fills me with immense joy to witness their enthusiasm and to share the stories behind each brushstroke.
Recently, a collector from Porto, who had previously acquired my artwork through a gallery, came to Setubal for a personal encounter with me and my work. His visit became that one more special moment in the studio, as he not only immersed himself in the ambiance of the place but also departed with four additional works. As we all know, happy collector means happy artist.
The meaning of a studio: my place of exploration
Within these walls, time becomes fluid, hours melt away. I can spend endless moments moving from one painting to another, from the vibrant strokes of oil on canvas to the pastels on craft paper. The studio is my sanctuary, where I find inspiration and the freedom to explore the depths of imagination to create my latest works like 'Manifestation of Being'.
As I immerse myself in the creative process, the melodic strains of David Bowie fill the air, becoming a symphony that guides my creativity. The cup of tea beside me, long forgotten and now cold, serves as a silent testament to the intensity of my focus. The delightful chaos of a neighbor's mischievous dog disrupts the tranquil ambiance, infusing an element of surprise and playfulness into my harmony.
Explore contemporary art – pay me a visit
I extend an invitation to all of you who wants to get familiar with my works and process in person. Experience the energy that permeates these walls, witness the process, and discover the stories that I am more than happy to tell. Send me a quick hello here on the website or via my Instagram and Twitter and I'll be happy to see you!
Setubal, Portugal