Tania Rivilis Art in Times Square: A New York Showcase
Tania Rivilis Art in Times Square
New York City's iconic Times Square is no stranger to art, culture, and expression. This bustling hub recently had the privilege of showcasing the work of an artist who, through her strokes, intertwines the vivid imagery of memory and emotion. Tania Rivilis' artwork was not just displayed, but it lived and breathed among the neon lights and the ever-vibrant crowd.
The Display in Times Square
From April 10th to April 16th, the massive billboards of Times Square were graced with Rivilis' 'Apricity in New York'. This piece pulsated with life, bringing a piece of Rivilis' soul to the heart of the Big Apple. Take a closer look at Apricity in New York.

Arcadia's Embrace
It wasn't just Times Square. Arcadia Gallery on West Broadway also became home to Rivilis' work during this period. As visitors sauntered through, they could experience the raw emotion of 'Lavender Languor', a piece that found its new owner even before the exhibition. Discover more about Tania Rivilis and her work at Arcadia.
For those interested in 'Lavender Languor' and its intricate strokes, here's a closer view.

Recognitions and Achievements
The world of art is no stranger to awards and accolades. And yet, the most coveted are often not the most publicized. Rivilis' portrait, 'Kupka's Dog', was awarded the William Lock Prize by the Royal Portrait Society in 2022, a significant acknowledgment in the realm of portraiture. This recognition tells tales not just of technical prowess, but of the depth and thought behind every brushstroke. Explore the story behind this award.
Moreover, the famed Cozomo de'Medici collection now features 'Kupka's Dog'. Those familiar with art understand the weight of this inclusion. For the uninitiated, Cozomo de'Medici's collection speaks for itself.
The Artist in Digital Age
Art, in its essence, is a form of communication. Today, that dialogue continues on platforms like Instagram, Facebook, and Twitter. For those curious to witness the Times Square spectacle and the accompanying events, Tania Rivilis' digital presence provides a front-row seat.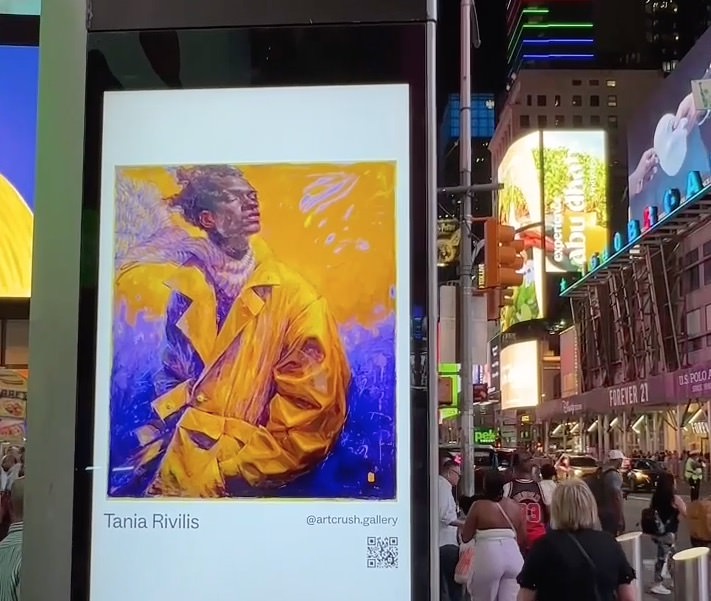 ---
Tania Rivilis' work in Times Square was not just an exhibition. It was a testament to art's power to transcend spaces, merging the world of canvases with the cacophony of urban life. And as the lights dimmed and the displays transitioned, Rivilis' strokes lingered, leaving an indelible mark on the heart of New York.
For art enthusiasts and curious minds alike, this event underscores the evolving narrative of art, suggesting that its future is as vibrant as its storied past.
Times Square
Address: 7th Ave / 47th street
11th Ave / 41st street
ONBD X ARTCRUSH EXHIBITION 1145 Manhattan Ave